A day before Ballet Manila's CEO and Artistic Director Ma'm Lisa Macuja Elizalde's birthday, a fire broke out in the facilities of Star City and damaged the two Theatres that served as home to Ballet Manila for almost two decades. The Star Theater reduced to ashes and damaged the Aliw Theater, two venues close to her heart as these had been personal gifts from her husband Fred Elizalde. A tragic incident which happened just 17 days before the scheduled shows of Giselle, the second Ballet Manila's production for their 24th season, originally has playdates of October 19 & 20. The next day, Ma'm Lisa announced on her facebook page that the Cultural Center of the Philippines (CCP) offered the venue grant of their Main Theater. Ms. Margie Moran also called to offer and lend the sets and backdrops of Ballet Philippines for Giselle. Ms. Maan Hontiveros and Jeffrey Solares gave them a discount for the Manila Symphony Orchestra. And finally the show goes on and got the playdate of October 17 at the Main theater of the CCP.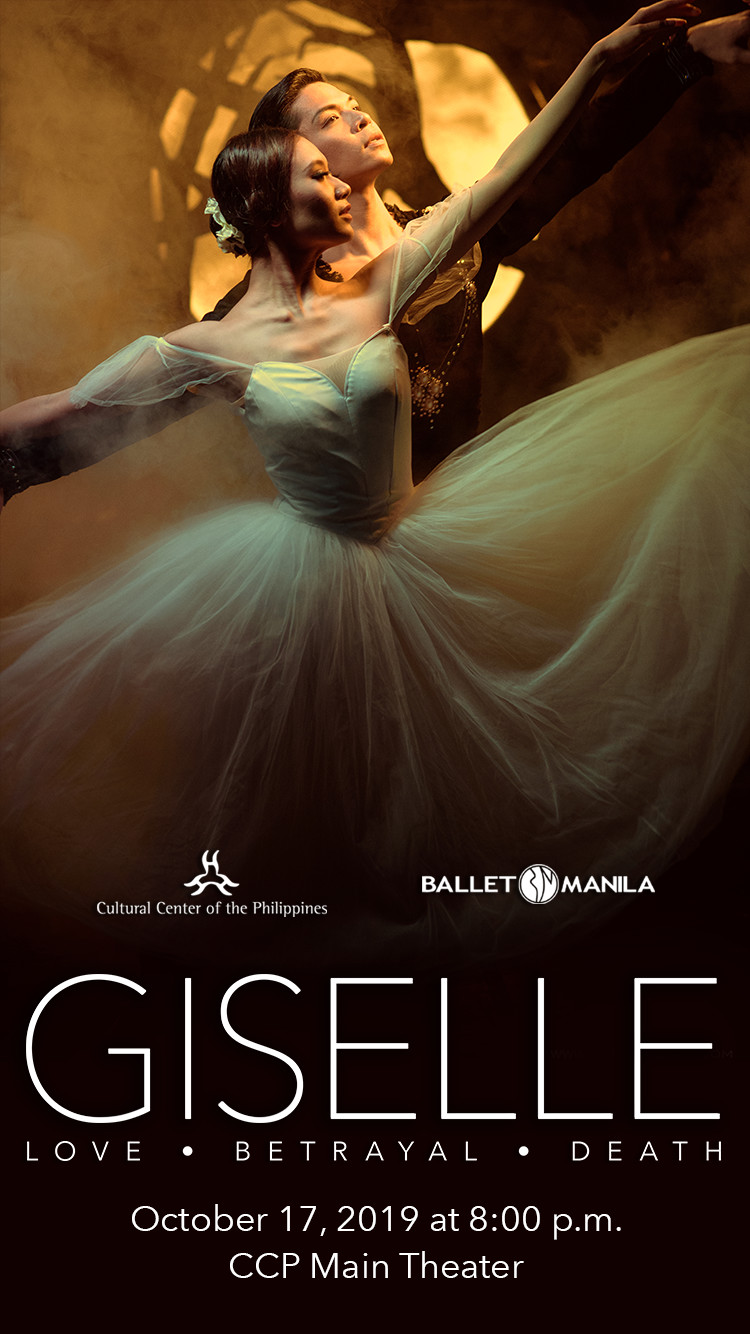 Despite of grievances and sorrows, Ma'm Lisa keeps sending positive messages and always says the phrase "WE WILL RISE LIKE A PHOENIX". She even made it printed in her shirts as a statement. Last thursday, Giselle was successfully presented at the CCP supported by many friends, most from and within the Ballet community.
"Ballet Manila was born in 1995 with nothing but youthful ideals, big dreams, and 12 fearless dancers led by our Artistic Director, the late Eric V. Cruz. We come before you tonight, 57 fearless dancers strong with artistic direction shared between myself and my fellow dreamer, ever-reliable partner, and faithful friend, Osias Barroso. We may be homeless for now, but we are determined to rise like a phoenix and rebuild, to be even more committed and determined to continue our mission and vision of bringing ballet to the people and more people to the ballet." –Ma'm Lisa on her speech before the show. 
Principal dancers Joan Emery Sia played Giselle and Elpidio Magat as Albrecht, Mark Sumaylo played as Hilarion, Akari Ida as Myrtha, Nicole Barroso and Joshua Enciso as the peasant couple, accompanied by more than 50 Ballet Manila dancers. Music performed by the Manila Symphony Orchestra under the baton of Maestro Alexander Vikulov.
Here are some of my captured images from the historical and lovely presentation of Ballet Manila's GISELLE at the CCP:
For further announcements and updates regarding Ballet Manila's upcoming shows. Follow their Official Social Media accounts on facebook, twitter and Instagram. Also visit their official website at www.balletmanila.com
* Photographs by Erickson Dela Cruz © 2019